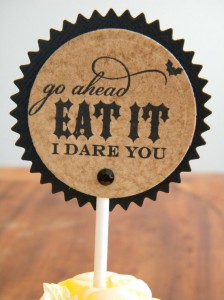 You could say that I have a minor issue with not "putting the cart before the horse" and that's true for me today when it comes to food. My last post was all about candy, sweets and dessert, so I thought it would be good to round out the discussion with some more hearty fare.
When it comes to holiday meal planning, there are lots of sumptuous, savory dishes that taste amazing to adults and, with some creativity, are fun for kids to eat, too. In fact, they may love these Halloween inspired dinner dishes so much that they forego dessert altogether. Here are a few creepy concoctions that will bring some fun to family mealtimes, but still have the flavor adults love.
Hors d'oeuvres
For starters, hor d'oevres are a simple and appetite kicker. Offer your family or your party guests a cheese and cracker tray, but serve the dipping sauces in a beautiful holiday dish, or hollowed out pumpkins. Make a cheeseball, but form it into a pumpkin shape with a celery stick for the top. Another idea would be to use a round tray of mini carrots, using triangular ramekins full of dip in the center as the eyes of your jack-o-lantern, with a little celery/broccoli as the pumpkin top. Instead of "piggies in a blanket" use little sausages and make mini mummies, using cheese sauce to make eyes.
Dinner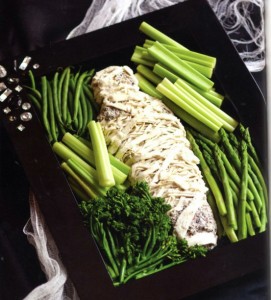 The main thing to remember about Halloween dinner is that it is all in your presentation. By taking your favorite recipes and tweaking them with some gothic flair, your dishes will be tasty and apropos for the holiday. Turn your signature rib dish into a skeleton, or add toppings to your lasagna in that depict a creepy face or hand.
Make your fetuccini alfredo, plate the noodles onto a "bed of grass" made of steamed asparagus and brocolli, and then shape the pasta into a mummy. I bet your hubby won't mind the extra festivities if it tastes good and he really won't mind it if you serve it all up in your beer wench costume.
As long as you are having fun, you give just about any recipe a Halloween twist. Don't stress about it, if it doesn't fit into your schedule, don't worry!
There's always next year, right? In the meantime, if you want to throw a holiday dinner party or a fun family meal, now you've got a few tricks to get started.
Bon appetit! Oh, and check out the video below for some more ideas on presentation!
Emma Rae Curtis is a costume/dressing up/makeup & accessories expert. She mainly writes about Halloween but also about all things costume and dress-up related.